Masainas is a small town of 1300 inhabitants located in the southern Sulcis, in the southwest Sardinia. The countryside is characterized by a variegated lanscape, the town  lies on a hilly territory that gradually descends towards the valley leading to the sea.
​The town is also sorrounded by the ponds of Porto Botte just before the Gulf of Palmas, on the fringe of Sulcis mountains.
Our lands represents the latest resources for a sustainable growth in harmony with the agricultural, farming and woodlands activities and the surrounding wildlife.
 In the town there are old houses called "medau" ,  gothic-aragonese style house turned into more contemporary housing. Along with new architectures, in the town there is a special care for the green spaces.
​Right in the city center, there is a great olive tree "Sa Matta 'e sa Cruxi" ("The plant and the cross") who in 2017 was officially recorded in the national register of monumental trees. The magnificent tree represents the pride of Masainas and a meeting point for the people.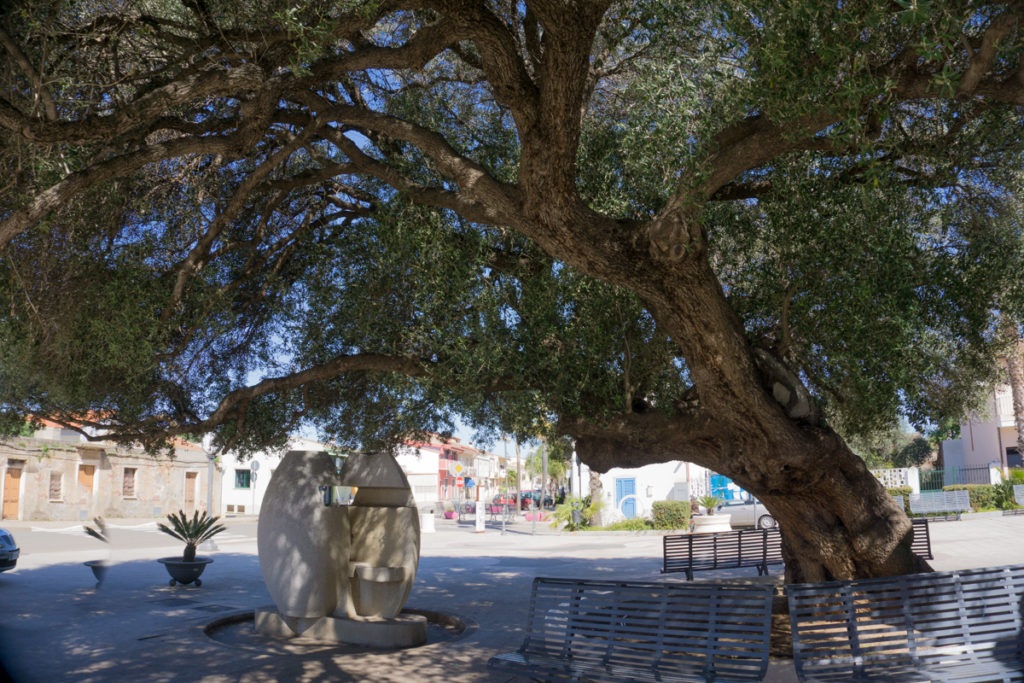 The human presence in the area dates back to very ancient ages, as some nuraghes remains testify. Among them, the nuragic site of Is Fais is worthy of memory.
Due to the peculiarity of this territory, various people were attracted by this area in different ages, such as the Romans and Phoenicians, who took advantage of the local resources.
​Even the Benedictine monks spent a long period of time here, during the evengelism of the island in 11th century.
The town center was originally built at the end of 18th century as a single medau (farmhouse), later it developed as boddeu (a group of farmhouses) sorrounding the church of St. John Baptist. The church was built in gothic-aragonese style in XV century, but it's very probable it rose on a old Benedictinin structure. Nowadays it is still possible to see the traditional agro-pastoral constructions known as furriadroxius, these were old sheepfolds more recently converted for residential use. They symbolize the rural life in the Sulcis area.
In the first half of 18th century we were the most productive agricultural center in the southern Sulcis. The tradition continues until today with some exclusive products like the grape of the Carignano wine and the renowned Sardinian Spiny Artichoke (P.D.O.) .  Moreover, the housewives help spreading and carrying on the culinary tradition, especially during events and festivals. Religion is very much professed among us and every year between September and October we renew our vow to the Holy Mother of Good Health. On this day the population is actively involved, the celebrations lead to a big devotional event featuring popular music, parades, showcase of artisanal products, wine and local food.